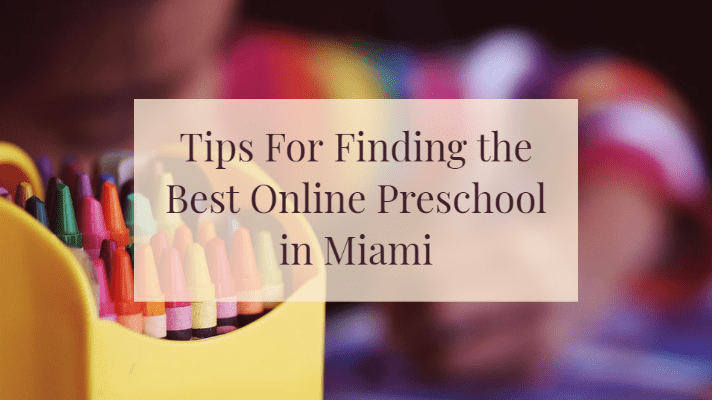 It doesn't seem possible, but the time is here! Your child is ready to enroll in preschool. There are so many factors to look into. Should you choose a public or a private preschool? In-class or online? What are the advantages of private school programs? Here are some points to consider when you are looking for an online preschool in Miami.
History
You want to be sure that you are going to deal with an educational institution that has an established track record. Look into the history of the school that you are thinking about. How long has it been accredited? Have they won any regional, or even national, awards? Remote learning, in general, could be an up-and-coming field of pedagogy, but it is at the same time an area of education that is expanding quickly by necessity. So, finding an online preschool in Miami will definitely be possible. With that in mind, however, you just want to be sure that when you look at the top preschools, the school you choose has a good reputation and the founder's methodology is rooted in a sound educational philosophy.
Enrollment
Enrollment is an excellent indicator of a school's effectiveness. In general, the lower enrollment that a school has, the more individualized attention a student usually receives. Private schools, in particular, usually limit enrollment, compared to public schools. For instance, a recent study showed that enrollment was less than 300 students in 87% of private schools. So be sure that you look at the number of students who are currently enrolled in the school. Have these numbers held steady through the years? Have they increased in recent years, or have they declined? It's essential to do this, because enrollment is seen as a barometer of the school's overall quality, and lower enrollment is a reason why private school education is generally considered better.
Class Sizes
It is very important to find out how many children will be in your child's class. What is the maximum and minimum classroom size? Also, what is the student-teacher ratio? This is a critical factor in choosing the best school for your child because the ratio will impact the individualized instruction they receive. An excellent balance for this is a 10:1 student-teacher ratio.
Specialized Learning
Inquire about the special programs that are offered at the school. Do they have online art classes for kids? Music lessons? And are foreign languages encouraged? These kinds of programs foster a love of learning and are important to the development of creativity and other skills in children. The best online preschool in Miami (and other locations) will offer them, without a doubt.
Tuition
If you are considering a private preschool, of course, you will have to think about the cost of tuition. Research other private schools and compare the pricing that you come up with. Also, be sure to inquire about the possibility of obtaining financial aid. Is there a discount if more than one child in a family is enrolled in the school? How are tuition payments handled, i.e., is there an installment plan for payments? Also, if the school has grade levels after preschool, it's very important to find out how much the tuition increases.
Summary
In this day and age, it is clear that remote learning is an area that is here to stay. And one thing is for certain: whether you are looking at an online preschool in Miami, in Anchorage, or in Cincinnati, you definitely want the best education possible for your child. No matter where you live, the benefits of private schools, as we have seen, are numerous. Taking the lead and doing your research will help you make an informed decision and find an online preschool. What greater gift to give your child than a life that starts out with an appreciation for the love of learning! It is a gift that will impact your child's life forever.