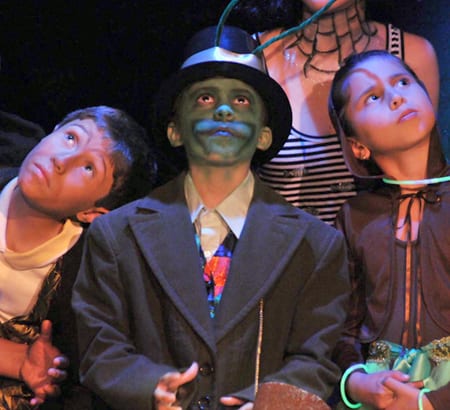 Ever wonder why many private school curriculums and private school extracurricular activities include an emphasis on performing arts like theater? It's not practical, some parents think. There are visions of 'starving artists' and 'struggling actors'. First, don't knock the merits of pursuing an acting career; but second, did you know how incredibly healthy performing arts middle school programs can be for these early adolescents? Here's a sampling of skills that middle schools can glean from a well-rounded performing arts program in theater.
Confidence-Building
Learning the ropes of theater and getting up on stage takes guts. Middle schoolers build a sense of much-needed confidence perfecting theater skills and supporting their peers.
Role-Playing
Middle schoolers are at an age where they are constantly trying to re-invent and establish their public image and sense of self. Roleplay through acting and theater gives them a safe space to explore new personas, looks, and emotions.
Developing Communication and Memory
Creating a performance piece needs incredibly valuable skills in communication and memorization. Not only will these skills benefit students in their daily lives as they prepare for adulthood, it could even get them into college. The graduating class of 2011 among all U.S. private high schools numbered 305,842. Of those graduates, about 64% attended a 4-year college by that fall semester. The high rate of success shows how important great communication skills are within local performing arts middle schools and private school theater programs.
Artistic Literacy
Raising cultured kids creates cultured adults! In theater, middle schoolers not only get an idea of the whole process behind writing, acting, directing, and designing, they also become familiar with classics from Disney to Shakespeare.
Expressing Creativity
From costumes to writing to sets, children in theater get to explore their senses of artistic creation and express themselves in a wonderfully public manner. What's more encouraging than sharing your art to be appreciated with friends, family, and community?
Giving a Sense of Community and Empathy
As any 'theater kid' can tell you, the sense of community in theater can save lives. At such a crucial and tumultuous time in a child's development, theater creates a sense of support, freedom, acceptance, and community that middle school-age children crave.
At Conchita Espinosa, we're very proud of the theater program we've established for all age groups, and especially love the positive effects it has on our oldest students. Click HERE to read more about it and see some pictures of our young actresses and actors in action!