6th, 7th and 8th Grade
All students are required to write an essay about why they want to be a part of their first choice mastery. Returning Students: If you were in mastery last year you should also answer the questions: What did I learn in mastery? and What can I contribute to mastery this year?
Try-out, audition, and submission requirement details will be updated prior to the beginning of each school year.
Conchita Literary Magazine
Conchita Literary Magazine – Angelica Julio and Jessica Munar
Esencia is a student-produced literary magazine. The class runs like a digital publishing company divided into departments with different duties, schedules, and deadlines. Students in this mastery get a taste of what it is like to work in the real world as a creative writer, editor, publisher, photographer, or graphic designer. Students go on field trips, host guest speakers, and learn from professionals. They also develop a unique bond through collaboration and teamwork. They have weekly staff meetings, celebrate staff birthdays, and work together to complete projects. Conchita Literary Magazine is the springboard for igniting the desire to follow careers in professional writing and art.
Requirements: Interested student writers should have good leadership and organizational skills and be interested in working hard alongside a motivated and dedicated team. Two writing pieces are required for consideration: a three-paragraph essay and a personal piece of literary writing or art to show your past skills. In the essay, tell us about you and why Esenciais the right mastery for you.
Cross Country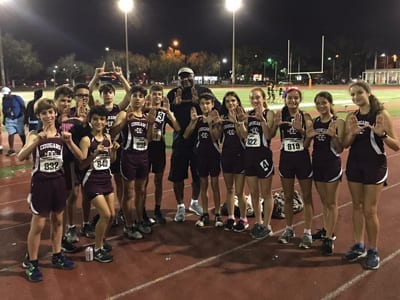 Cross Country – Coach Carlos
Cross Country requires students to run long distances. Students are expected to show up on time in proper running attire (regulation shorts, shirts, and running shoes). Students will be running 2-5 miles daily at different paced intervals to not only change up the routine, but also give the students a well-rounded and solid foundation as they begin to understand what cross country and track style running consists of. Also, by changing the methods in which we run, we will be able to identify the strengths of each runner, so when the track meets roll around, we know what event to put the student in to give him/her the best chance to win. Those students who are selected will be attending interscholastic meets throughout the school year (6-8 meets).
Requirement: Tryout. Wear your regular uniform for the day and bring your PE uniform and sneakers in a bag.
There is a $200 fee for the uniform, practice shirts, entry fees, Gatorade, tent and transportation to local meets.
Conchita Cinema (CC)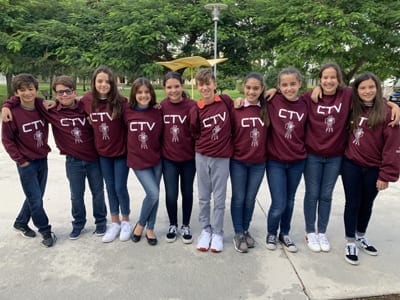 Conchita Cinema (CC) – Juliana Zapata and Joshua Mosca
This new program will be exploring the art of cinema and the technical aspects of film production. Students will learn to have an appreciation for film, as well as the necessary skills to go through the three stages of video production. In pre-production the students will learn screenwriting, storyboarding and scheduling their shoot. During production, the students will bring their storyboards to life by framing shots, and designing the set and wardrobe. Finally, in post-production the students will be responsible for editing and sound mixing.
Limited and ever-changing resources available in the school call for the ability to find creative and innovative ways to complete tasks on time. If a student enjoys writing, taking pictures, making videos, and editing he/she can further develop those interests in Conchita Cinema.
Requirements: CC looks for students with strong communication skills who are looking to further develop and enhance these skills. CC students must have a proactive and positive attitude, be able to work individually and in a group, meet deadlines, and be willing to step outside their comfort zone.
To be considered for Conchita Cinema, students will be asked to submit five artistic photos taken by them (any subject) to gauge how well they can frame a shot. Selfies or profile photos are not acceptable. In addition to the photos, students will need to write a paragraph about what their favorite movie is and why it is their favorite movie.
There is a $110 fee for materials.
Dance
Dance – Danella Bedford
Conchita Espinosa Youth Dance Ensemble (CEYDE) is dedicated to enhancing the dance training for CEA's dancers in various dance styles. This program has a junior level and a senior level and aims to provide students with the tools needed for performance in the professional world. In today's dance world, the dancer must be extremely versatile as this art form continues to develop and, therefore, classes will focus on ballet and modern technique with other styles taught whenever possible. Students will also study the "progressive ballet technique" which is a specific body conditioning class, with the use of various simple equipment.
Field trips to performances, workshops, or a combination of both, in or out of town, are an integral part of the training. Our goal is not only to improve technique and offer performance opportunities but also to develop the human inside.
Requirements: Class and Audition. Students must have a desire and a passion to pursue dance and the ability to work hard and are expected to commit fully to the program, which includes consistent attendance to all conservatory classes, all rehearsals, workshops, master classes, competitions, and field trips that are scheduled at the beginning of the year. Please note that most of these are NOT during school hours and, therefore, this program does require extra commitment, not just from the students but also the parents. There are also extra costs, including, but not limited to, uniform, field trips, master classes and competitions. The cost can vary for each student, but an approximate cost of main events will be discussed in the first meeting at the beginning of the year. Students wishing to be a part of the Dance Mastery program must audition by attending the mandatory audition classe(s) and audition day and must be enrolled in ballet in the Conchita Espinosa Conservatory of the Arts.
Music Ensemble
Music Ensemble – Yirka Ledon and Norman Milanes
Music Ensemble is a Mastery Group for students interested in developing their passion for music. Students should have previous music experience and take at least one hour of private music lessons each week. Moderators in the Music Ensemble work with students on an individual basis to strengthen their technical skills as musicians, as well as participate in ensemble work. The Music Ensemble prepares several performances each year. Members of the
Music Ensemble who meet the criteria will also be eligible for induction into the Tri- M Music Honor Society.
Requirements: Audition and Interview. Students in Music Ensemble must be enrolled in a Conchita Espinosa Conservatory music class. There will be a $100 fee for materials.
Speech and Debate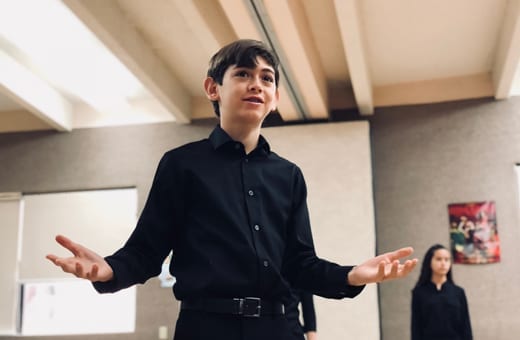 Speech and Debate – Tiffany Berrios
Speech and Debate is a fantastic way for students to become effective communicators amongst their peers, classrooms, and everyday life circumstances. Students will develop the skills needed to conduct proper research to gather factual information, organize their ideas to create convincing positions on various topics, become active and respectful listeners and confident presenters. The skills they will learn in this Mastery will help students find strength within their voices to speak on important matters within their communities.
Requirements: Write a paragraph explaining why you would like to be in Speech and Debate.
STEAM (Science Technology Engineering Art and Math)
STEAM – Christina Rajo and Alejandro Valhuerdi
STEAM (Science Technology Engineering Art and Math): STEAM Mastery strengthens students' abilities to be creative and flexible problem-solvers. With STEAM projects, students learn by inventing, creating, and designing and understanding the true meaning of design. Students will be working with the laws of science (physics and engineering) and math. Challenges include designing an egg parachute, building a bridge to scale, programming a robot, coding, creating online video games and reverse engineering.
Requirements: Students are expected to explore different ideas, to recognize failures as opportunities for discovery and to communicate well with others. Resilience is a key factor to success in this Mastery. Short essay submission is required. Write 1-2 paragraphs explaining why you want to be a part of STEAM. There is a $150 equipment fee.
Theatre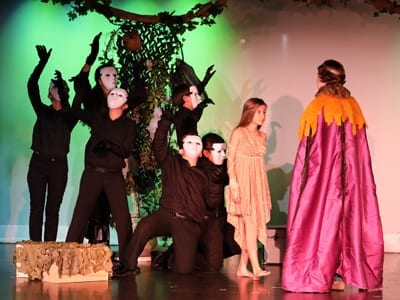 Theatre – Stephanie Richards Lawrence
Student's imaginations will be invigorated as the various acting techniques and exercises are explored. The many types of theatre will be revealed. Participants will develop and fine-tune their instruments through movement, vocal projection, and sensory exploration work. We will focus on scene study, as well as the joy and benefits of improvisational games. Training in character development and tips for excellent auditions will also be shared. Students desiring a career in the theatre will be introduced to the art of monologue performance in addition to production work. Performance opportunities will be consistently available in class during the year. Students will take field trips to theatre arts-related events. Details of upcoming field trips will be shared in a letter to parents during the first week of mastery. Theatre Mastery participants will learn to become fearless on stage and in life!
Requirements: Audition Required. Students in Senior Mastery must be enrolled in Conservatory Theatre. Students in Conservatory Theatre will take part in the Spring Mainstage Production. Conservatory Theatre may include some Saturday rehearsals, which are scheduled as necessary.
Visual Arts
Visual Arts – Karina Vazquez
The goal for the Visual Arts Senior Mastery is to give the students the knowledge of the historical perspective of art, as well as the classical techniques of each of the movements we will study. This mastery class takes a classical approach to drawing and painting as well as the history of art. The program will go beyond arts and crafts; the students will learn how "to see" in a new way as well as to view, discuss, and create art masterpieces.
Once a week we will use technology to research different artists and periods of art. Students will visit museums and other art events pertaining to class discussions. Students will learn to draw as if hands have become extensions of their eyes. Students will learn, as did artists in the Renaissance, by studying and copying from the great masters as well as looking at the world around them and discovering their own artistic visions.
Students will work individually as well as in groups.
Requirements: Applicants should have a passionate interest in art since students are expected to spend at least 2 hours a week working in their sketchbooks and researching masterpieces. Portfolio submission is required and should include current sketchbook with more than 10 pages completed and 1 original art work (size 8½" x 11") along with a paragraph or two about the artwork/or interest in art. Name and homeroom should be on the back of the sketchbook and the artwork and submitted to Mrs. Vazquez. There is a $120 materials fee.