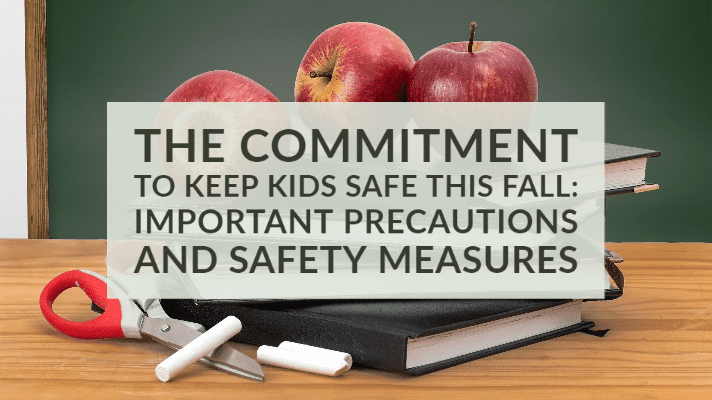 If you're on social media or, put another way, if you have a pulse, you may see a remark or two about kids trading masks and/or desperately failing at social distancing. While it is only natural to have concerns, teachers and staff are rising to the challenge and doing everything in their power to address these concerns and keep children of all ages safe.
Here are some ways in-person instruction will be different this fall.
Screening People As They Walk In The Door
The majority of private schools (87%) have under 300 students. That is great news at any time. Having fewer students ensures that your children enjoy small class sizes and plenty of one-on-one attention from their teachers. During COVID-19, it also ensures that they are safe.
In addition to keeping class sizes small, schools may take kids' temperatures and ask about any symptoms they may be experiencing. Parents can help by screening their children for any signs of illness at home. Keep sick kids at home — and sick teachers or staff will do their part by staying home, too. Online learning is available for any children who may feel under the weather or whose parents feel more comfortable keeping them at home.
Kids, Teachers, And Administrators Will Be Wearing Masks
As kids return to school this fall, we ask that they wear a mask. Teachers and administrators will be wearing masks as well. Keep wearing a mask light-hearted and fun for your child whenever possible. Purchase masks in different colors, masks with designs from their favorite movies, or masks with their favorite cartoon characters.
If you worry that children may share masks, talk to them. Explain sharing in terms they would understand. Compare masks to toothbrushes and underwear (i.e., explain them as "things we do not share"). Teachers will also do their part to kindly talk to kids if they see anything amiss. With small class sizes, teachers are able to pay careful attention to the goings-on inside their classrooms. That's another one of the benefits of private schools!
Teachers Will Be Taking Advantage Of Outdoor Spaces
As we transition from online learning or fully remote learning to in-person instruction, teachers will take advantage of the tools at their disposal. One of those tools is outdoor space.
Taking the class outside not only appeals to children but also ensures plenty of fresh air and plenty of room for social distancing.
Small Class Sizes Will Lend Themselves To Appropriate Social Distancing
The Centers of Disease Control and Prevention (CDC) ask schools to aim for six feet between desks. At private schools with smaller class sizes, that is much more achievable.
If certain subjects or occasions call for it, classes may also be held in auditoriums or gymnasiums to ensure children are able to remain six feet apart.
A New Approach To Lunch
Having all children in the cafeteria or lunchrooms at once is not the recommended course of action right now. Schools are working around this by staggering lunches, significantly decreasing the number of children eating in the lunchroom at any given time. Some are allowing kids to eat in classrooms at their desks. Others, still, are taking a blended approach with some full days, some half days, and/or some online learning. On half days, students eat their lunches at home.
Additional Options For Those Who Want Them
Of course, while in-person instruction can be important for optimal learning, making friends, and for children whose parents work, schools understand that some parents just aren't ready to take that leap yet. For the time being, many schools are offering online learning for kids in the local area. Parents can opt for online learning for the foreseeable future and reevaluate whether they are comfortable sending their kids to school in-person after fall.
Schools are doing all that they can to keep kids safe — whether they are learning in-person, online, or taking classes via a blended approach. Private schools have even more resources to go above and beyond for their students.