"Children need to move, they need to sing, they need to create – these are the things that maintain our humanity, and this is needed more than ever in times of crisis."
For 87 years, Conchita Espinosa Academy (CEA) has prepared students to be educated, cultured, and kind citizens who are empowered to look for the best in others and themselves. From a young age, CEA students are shaped into young men and women who actively make a positive difference in the world by being true to their beliefs, talents and interests. Transferring our values to a virtual space and maintaining the essence of our mission is a critical priority for the success of distance learning at CEA.
Unforeseen circumstances in Spring 2020 challenged faculty and administrators to adopt a growth mindset and think innovatively, reflecting on how to best offer students a sense of normalcy and maintain educational objectives, while transferring learning to an online platform. CEA's answer – and success – has always been the human connection. The fostering of human connection – student-teacher, school and home, and peer relationships – are at the core of CEA's philosophy. Nurturing the fluidity and connection between the learning environment and the student has been an essential component to the program's design, which was up and running within a day of the school building's initial closure in March 2020. In the CEA distance learning program, teachers continue to teach in the same manner as they do in their classrooms, only with a heightened awareness that they have to pay attention to different things. Daily communication with families has supported the sense of community and drawn strong support from parents and families.
"Space for dialogue and discussion for all subjects, including the arts and physical education, continue to be a priority or we would not be fulfilling the mission we have promised our families."
Distance learning at CEA offers students a hybrid approach to virtual learning through a balance between synchronous (face-to-face) and asynchronous (independent work) sessions for all grades from pre-school to the 8th grade.
CEA is mindful of the developmental ability to remain engaged during screen time of each age and grade level, and complements live sessions with engaging assignments to extend students' learning beyond the classroom. Distance learning at CEA includes Spanish, music, dance, P.E., theatre, religion, visual arts, as well as the Conservatory of the Arts. There is designated time for daily check-ins with teachers and administrators to answer questions, provide homework help, and simply take the time to talk to students and parents.
One distinctive aspect of CEA is the fact that students do not want to leave school when classes are over. At CEA, our students and community are uniquely strengthened by a state-of-the-art, after-school Conservatory of the Arts and a robust competitive athletic program that challenges and supports both artists and athletes. 
The COVID-19 pandemic has given the CEA community the opportunity to grow, to learn, and to come together as a community to live the school's motto: "mejor, mejor y mejor."
Looking to the 2020-2021 school year, Conchita Espinosa Academy is prepared to face any of the three possible scenarios:
full reopening
a blended approach
remote learning
What might be the best approach at one point in the school year may change as the year progresses. The physical and mental health of our faculty, students and families are our first priority, and the school is equipped to support their students' learning no matter the circumstances.
Early Childhood Education
K3, K4 & K5 (Pre-Primary)
The goal of the early childhood program at CEA is to provide students with the opportunity to develop the natural curiosity and sense of wonder inherent in all children.
Read More >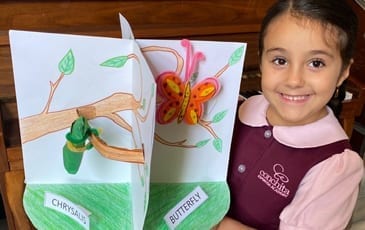 Lower School
Grades 1-4
The goal of Lower School is to challenge and inspire students to develop a lifelong love of learning. Distance learning in Lower School continues the in-person model of a strong curriculum that…
Read More >
Upper School
Grades 5-8
Upper school is the culmination of the eleven-year process students experience at CEA and prepares students to be the leaders of their community. Our upper school is uniquely designed to meet the…
Read More >