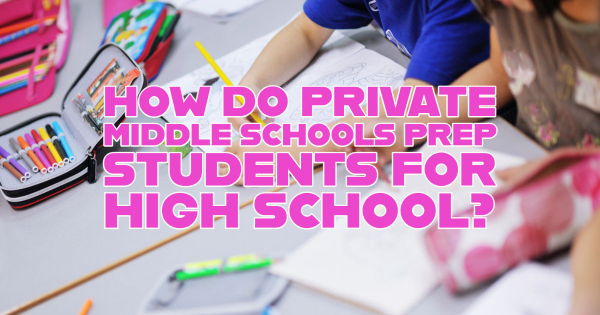 Private middle schools prepare students for high school by providing tailored programs to suit the specific needs of the student and family. In addition, they encourage students to take part in extracurricular activities for their personal development. About 5.4 million PK-12 students learn in 33,619 private schools in the United States alone. Here are some of the ways private middle schools prepare students for high school.
Personalized Attention
Private middle school students get support from their teachers and peers in and out of class activities. Teachers work with each student individually on projects that require extra attention.
Personal Development
Private middle schools typically offer counseling services to help students with issues. Counselors help students individually to discuss personal concerns or problems affecting their performance in the classroom. In addition, they provide students with an environment that allows them to develop social skills, independence, and confidence.
Opportunities to Explore Their Interests
Private middle schools offer more opportunities to learn outside the classroom. For example, students can participate in sports and other activities that help them understand the outside world.
Smaller Class Sizes
Most private schools have fewer students in each grade level. This arrangement allows teachers to spend more time getting to know each student individually and tailoring lessons specifically for each student's needs.
Private Middle Schools Teach the Basics
A private middle school focuses on helping your child learn the basics before moving on to more advanced topics. Students will learn the material in each subject at an appropriate pace before moving on to new material.
Focus on Higher Education
Private schools prepare students for higher education in tangible ways and give students a leg up in college readiness. Through highly trained teachers with years of experience, students understand the subject better.
Emotional Support
Private middle schools provide academic and emotional support for their students. This support helps prepare them for higher responsibilities when they reach their high school years.
Private middle schools ensure your child has a solid academic foundation and the tools to build confidence, resilience, and leadership skills. Private middle schools prepare students to succeed in high school and beyond.
When your kid heads off to middle school, you may start worrying about high school. Thankfully, the design of our programs helps students transition into the rigors of high school life.