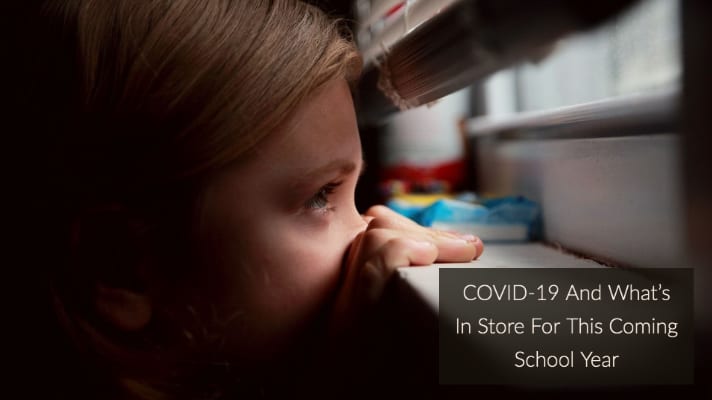 What does the future of education look like? The truth is — right now and for the immediate future — we don't know. What we do know is that we are committed to educating today's youth, and we are willing to try several different avenues to safely and effectively do it.
What will school look like this fall? Learn more about our plans to kick off the school year and continue providing the best possible education for your children in the midst of uncertainty and the coronavirus.
Kicking Off The School Year
Our goal, above all else, is to put you and your children at ease. Prior to COVID-19, anxiety and depression in children three to 17 years old were not unheard of. Before lockdown, 4.4 million children exhibited symptoms of anxiety, and healthcare professionals diagnosed another 1.9 million children ages three to 17 with clinical depression. While the specifics are unclear, it is reasonable to suspect that the pandemic may have aggravated these symptoms.
As we kick off the fall 2020 school year, our goal is to mitigate that anxiety. After careful consideration, we will begin with two teachers per classroom. To start, days will be half in-person and half remote. The exception will be Wednesdays, when lessons will be fully remote. If you have any questions, please do not hesitate to contact our staff!
Full-Time, In-Person Instruction
Ideally, lessons will return full-time and in-person. In-person students benefit from intimate, thorough instruction. Classes include specialized topics like music, dance, fitness, and Spanish. Student-to-teacher ratios are relatively low, giving your children opportunities if they have questions or need additional instruction.
Remote Learning
For the foreseeable future, parents have the option to enroll their children in online classes or online learning. The best private schools understand that some parents prefer to keep their children at home during the uncertainty of the global pandemic. Online classes are exclusively available to students in the local area or those who would ordinarily attend in-person. Online classes are just as personal, just as instructive, and just as informative as lessons taught face-to-face.
A Blended Approach
Sometimes, the best approach is a blended one. Blended approaches combine in-person instruction with online classes. With blended instruction, teachers are able to provide in-person classes in a safe, socially distanced environment. Teachers arrange desks six feet apart whenever possible and students are encouraged to wear masks when appropriate.
Online classes are available part-time. Part-time online instruction gives parents the opportunity to work and do errands while their children are in school.
The blended approach offers parents the best of both worlds: the security of having children at home when practical and in-person classes to help children make friends and interact with teachers face-to-face when possible.
Do you have young children returning to school this fall? Are you weighing what options are best for them? Put your worries aside. Contact us about the blended approach for our private school this fall.